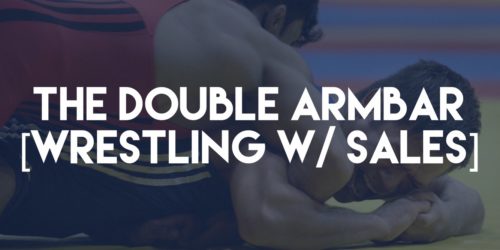 When I began wrestling in 4th Grade, I remember one mustachioed coach, showing the team how to run a double arm bar. One of the wrestlers sitting huddled in a Central NJ middle school cafeteria asked "How do you get out of the move?" Coach replied immediately, "Don't get put in it!" Normally in this situation the person in the bottom position can hope to not get turned, or have a stalemate called. To this day, when asked the counter for a double armbar, I am quick to reply with the same answer and expression my coach gave minus the mustache. You can search the internet and find various videos on how to counter a single armbar, but I haven't found one yet for a double armbar.
So what does this have to do with sales? Simple for me, there are certain sales situations where a salesman is put in a situation like the double arm that they cannot get out of and are hoping for a fresh start.
Here are some examples of salespeople allowing themselves to get put in a double armbar.
Promising you can do something you have never done before without the support of your operations team.

Having such a scripted pitch and no flexibility, that when the customer doesn't follow along and ask questions they weren't prepared for, they freeze

Not filling their pipeline and realizing this 1 week before the quarter is about to end.

The same goes for following up with existing customers

Being late for a big meeting because they were trying to finish up a presentation last minute

Not having a backup plan for the presentation should the internet/projector or laptop malfunction, ( In the podcast we talk about planned redundancy)

Being caught in a lie to the customer

Showing up unprepared to a meeting and not doing any prior planning

Not adapting to industry changes, and markets and selling the same way they did 10 years ago
Now for a lot of organizations these are extremely common, taking #9 into consideration just 10 years ago the top selling phone was…. The Nokia 2600 classic doubling the iPhone sales
In 2007 you could still walk in and rent a movie at Blockbuster Video. Text messaging was gaining popularity and some people even paid over 7000% markup or $0.10 a message for the privilege . More common today in 2007 using text messages with customers and prospects was almost unheard of.
Knowing how much has changed and the additional resources we have as salespeople today is their really any reason we should allow ourselves to get put in a double armbar?
---
---
Need help meeting (or surpassing) your numbers?
Contact Us: PushPullSales@gmail.com
---