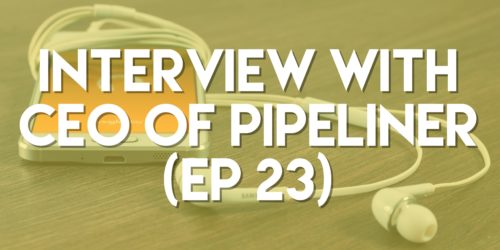 We have another interview for this episode where Marcello speaks with Nikolaus Kimla. He is the CEO of Pipeliner CRM & very knowledgeable in the realm of sales & business in general. Nikolaus has a clear passion for the sales industry, & he created Pipeliner CRM to be an incredible tool for businesses in a variety of industries.
Pipeliner offers a lot of unique & extremely useful features throughout its beautifully designed CRM, & you can get a better idea of what they have to offer through the following: the Pipeliner CRM Features Tour here, numerous YouTube tutorials here, or a hands-on free trial here.

Resources that Nikolaus Recommends:
You can connect with Pipeliner through the following:
Do you currently use a CRM? Share it with us by tweeting @pushpullsales
*thanks to BenSound.com for our intro & outro music*
---
Listen below, or subscribe via your favorite podcasting platform
---
Need help meeting (or surpassing) your numbers?
Contact Us: PushPullSales@gmail.com
---